Lately our CT girls, Vivie and I have been talking much about styles and the whole idea that some people don't consider this or that style as "real" scrapbooking. We are a team of varied styles, we take pride on that and we grow from looking at each other's art. That's when our wonderful and oh so talented PattyAnne vented out on the subject and put in writing what all of us in the team would have liked to. Here is what she wrote (thanks PA for letting me use this):
______________________
THE RANT
I used to think that if scrappers ran the world, we wouldn't have the world problems that we do now. The scrapping world felt so open and giving and tolerant and loving.
But I have noticed a change in the past couple of years - a growing segregation and narrow views to 'establish exactly what "real scrapping" is'. I have read harsh comments against women who make fantasy layouts, altered art layouts, art journal pages and those who use stock photography. I have been appalled at the hateful personal comments directed at these women even suggesting that they should be banned and should find a new hobby all together. I expect that these same narrow minded will be pushing for segregation and laws against such layouts being created at all.
Do you remember when Digi-scrapping was just beginning to get popular - and paper scrapping was EVERYWHERE? Many paper scrappers turned their noses up at us and said "That's not REAL scrapbooking" (Those of us who embraced both felt like we had to be in the closet about our 'other side'.
Every winter, all of these spectacularly beautiful winter/snow kits come out. Am I NOT allowed to scrap with these because I happen to now live in an area that MIGHT get one smidgen of snow once every decade? Am I not allowed to voice my memories of snowy days, to voice my dreams of sitting by a blazing fire while the blanket of white makes the world seem virgin again? The fact that I borrowed, by which I mean I asked a friend living in a very snowy region if I could scrap her photos - and gave her credit for the photos, is that NOT the same as using stock photography? I just happen to have a personal relationship with the stock photographer.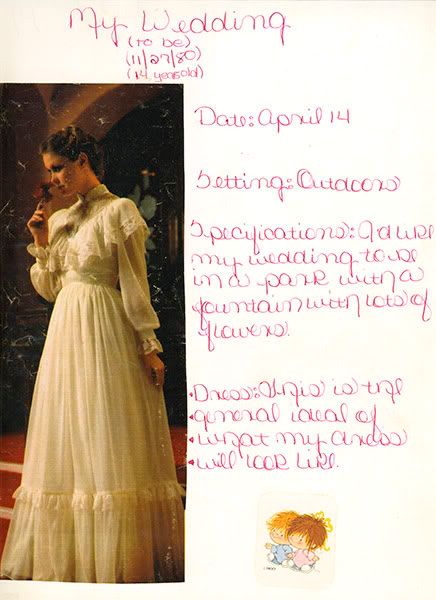 That is the scrapbook page that I made when I was 14 years old - planning my wedding. I cut out a picture from a magazine of a lady wearing a Gunne Sax dress looking oh so romantic, I put in a sticker of a cute weeto boy and girl walking holding hands, and I wrote out my plans for my wedding. Isn't that in effect STOCK PHOTOGRAPHY??? Should I, at the age of 14 have been banished from the "art" of scrapbooking??? Should someone write to "Seventeen" magazine and have me arrested on copyright violations because I used an ad of theirs in my scrapbook and NOT written down that the photo appeared in blah blah blah and was taken by blah blah blah? As I look back at that scrapbook I created from my teen years, do you realize how FEW of them have IRL photos???
What about the pages that we scrap that we have NO PHOTOS for? Is that NOT REAL scrapbooking? What about the pages that we scrap using all the wonderful art dollies rather than "real people"? I for one am jumping up on the this bandwagon. I for one feel like a liberated woman gaining this whole other way, this whole other voice, this brand new revolutionary way to express so much of what has been left pent up inside of me - because it didn't fit into other women's narrow views of scrapbooking! I am woman, hear me Roar! and Art Doll! and paint with 5 kinds of paint on the same picture! and glue metal things into my journal! and paste pictures from magazines onto my pages!
Scrapbooking is an art form. It has grown and evolved, like every art form should. Every style of page does not appeal to me, that does not make them any less valid. We can make these same arguments about styles of photography, about styles of music...
Yes, I know I always go back to music since my husband makes his living as a musician... another side of a coin of questions about art...
Beethoven, Bach & Mozart had to bash their heads against lots of narrow minded royalty about what 'real music' was as they tried to evolve and grow in their art.
When someone decided to make the electric guitar, did it quit being REAL music because that's NOT how they USED to do it? (we hear it all the time that my husband's music isn't "the real blues" because it's not this particular style - or that particular style. "The Blues Nazi's" we call 'em --- and even they can't agree on what "the real blues" is. My husband plays MUSIC - and it is touched by every genre that has ever touched his heart and soul, and there's a ton of what God put there in his blood long before he was ever put on this earth and ever picked up a guitar)
God gave us so much variety in life so that he could speak to us in so many different ways. What sings to my soul may not sing to yours. What doesn't touch my heart today may touch it tomorrow. I for one, plan to embrace and try everything I've never tried before... I'm going to taste every food I've never had, walk down a path that I've never been on, try that new technique... and I'm going to applaud you for the things you love - even if they're not my style.
Maybe the narrow minded scrappers need to start a good old fashioned "book burning"!
Burn those pop art pages!
Burn those HDR photography technique pages!
Burn those photos where the moms went in and cleaned up their kids and dressed them real pretty and then went out and re-staged that snapshot moment!
Burn the fantasy layouts that aren't real at all.
Burn those heartfelt pages about relatives that we have no photos of!
Burn every page that was ever created about 9/11 using stock photos!
Burn every remembrance page about the Haiti & Sunami disasters!
Burn every page by a person who's home was burned down & they have no photos at all!
Let's flush those impostors out - burn 'em! burn 'em all!!!
____________________________

THE THOUGHT


After reading this I started to think how great it would be to have a place where all types of scrapping artists had a chance to "defend" their art. A place to show the community that whether fantasy, clean, freestyle, altered, extracted, traditional, our art is a reflection of ourselves and of our soul.

THE CHALLENGE

So here is your challenge. Post one of your pages (it can be new, old, one that you made for this, whatever) and tell us what kind of thought process you put behind it. Tell us why that page is important and why the way you scrapped it the way you did. Show us why your style, no matter what it is, IS a reflection of you and your feeling. Be brave, speak your mind.

rules:
There are no rules, except NO BASHING. We want this challenge to be a celebration of your work, not a bashing of somebody else's style. Let's be inspired by other people's work and thoughts, no matter how different from our own.

prize:
Vivie and I together with our CT girls will be choosing a layout/explanation to be our grand prize winner.

Winner will be taking home 2 ViVa products of their choice. We will be also selecting 2 random pages to win a $5 coupon to our store.



Throughout the week our team girls will be posting their layouts as inspiration... I hope you enjoy it!

HUGS!!!
Vanessa and Vivienne