Sheng Xiao is the Aisan Zodiac, to go with our other Western Zodiac kits. And just in time for Chinese New Year!!! What could be better. But, it's a kit that will work with other themes, not just zodiacal. Could be a bit of a travel layout, or a memorable trip, or even if you just love Asian elements.
Lynn is new to our CT and we are so very pleased to have her. Here is what Lynn did with our kit:
And Aniko did this: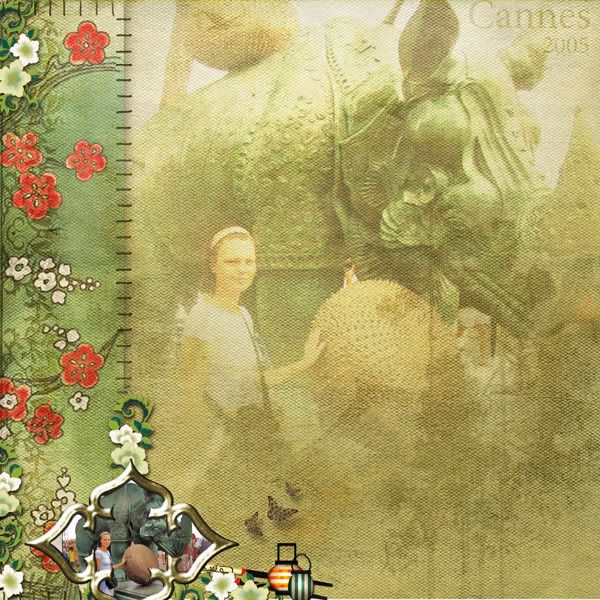 and Michelle at the DigiChick did this:
and look...I (vivienne) did up a freebie for you! Using one of the papers, I created a Chinese take away box. And a small tutorial follows.
If you ever wanted to try out a hybrid project, here it is. Download the file. Inside the zip are two jpg files. One is for letter sized paper and the other for A4 paper (I live in Europe so my paper size is A4). Print up the one you need and cut it out. Just to let you know, I printed this on slightly glossy photo paper.
Then, using a craftknife on a self-healing mat, score (lightly slice) into the box on the fold lines. It will fold easier when you score it. I made the fold lines at 50% opacity so it shouldn't show up too bad on the front. I usually do my scoring on the back side, though.
Use a gluestick and glue the side flaps to the INSIDE of the box. Now, here you can be creative. You can add in a ribbon handle by punching two holes in the sides and stringing ribbon thru. Be sure to knot it on the inside of the box. Or, you can string beads on a piece of wire and string it thru the holes (make sure the holes are very small). Just loop the ends inside the box to keep it from coming out. Then tie a pretty ribbon around the box (as shown) and place a bow on top. PERFECT for gift giving. I'm sure my mother-in-law will want this one!
As a side note, when I was working out the template for this box, my daughter Isabella (who is 11) is a very creative person and loves to do paper projects with me. Well, there was an error in the first draft I did and she was quite irritated with me and proceeded to show me what was wrong with it and how to "save" it. So, I will give her credit here for doing a final check and some design work!!!